October 19th, 2007
---
06:35 pm
Just been busy.. but here you go. =)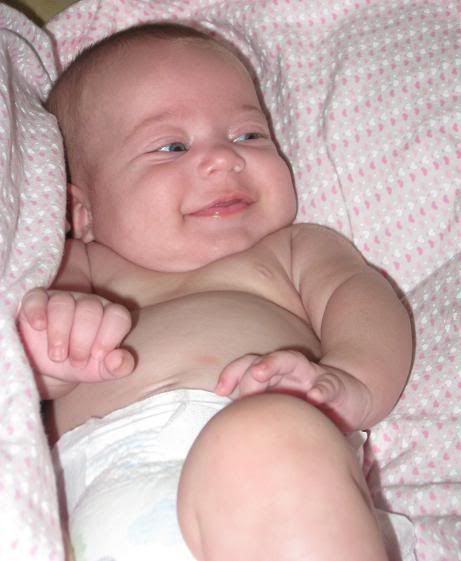 Current Mood:
happy
Current Music: David Gray- This Year's Love

June 10th, 2007
---
04:20 pm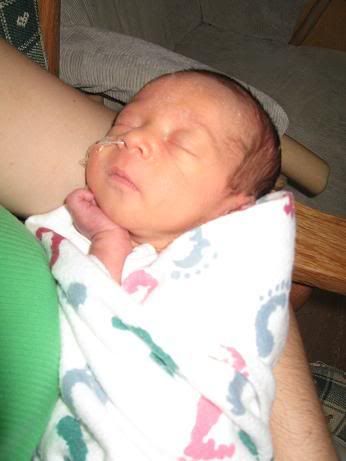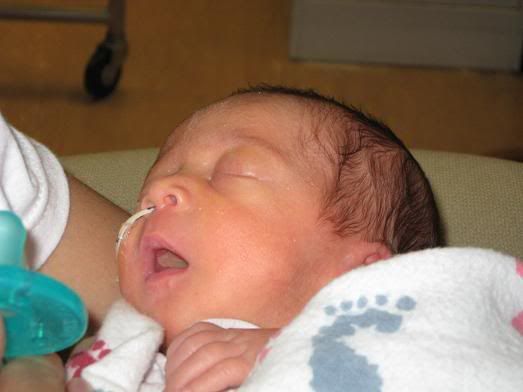 May 20th, 2007
---
11:21 pm
Well, she's here. =)




A little early [2 months, to be exact].




And a little small [3 pounds, 15 ounces].




Mom didn't even get a chance to get an epidural [12 hours of contractions, YAY].




And she's in Toledo's Newborn ICU [but her mom and dad get to stay with her].




Oh yeah, and she sleeps like her daddy [WTF?].




And even with all the monitors attached to her, she's absolutely perfect!


May 7th, 2007
---
12:57 pm
Thank you so much Miss Maggie, for the swollen, bloated, aching cankles. I appreciate that. =)

April 15th, 2007
---
03:43 pm
Yesterday was Dan's birthday up at Nortel, the big 2-1.. WOOO.. so there was a ton of people up there and I went. Got to see Rudy (who I missed like crazy), Dave, Kyle, Bryan, Bobby, Dan, and both Bobby and Dan's new girlfriends. We had a freakin blast, dude those guys are hilarious and always know how to make me feel better about stuff that's going on since I've just been feeling like crap lately. But oh well, whatever happens, it's not my fault. I tried to do what I could to fix things between me and Carl but it's just not going to happen until he grows up.. and I can't sit around and wait for him to get all that bullshit out of his system. It's good to have friends that really care and are there for you at all times.. I feel bad because I don't know how I could have ever ditched all of them to hang out with Carl all the time. Onward and upward I guess.
Current Mood:
cheerful
Current Music: Rod Stewart- Maggie Mae

April 6th, 2007
---
05:44 pm
My dad got to come home a few days ago before he left for Africa. I guess they have their Visas, they're just waiting on passports. He was only home for the night to drop his truck off to me and take my brothers and sister out to Malarky's. Good to see him.. but it bums me out that he'll be gone for so long. =/ He said he's going to try to make it up for Maggie's birth.
Oh yeah, that's her name by the way. Not Margaret or Magdalin or any of that crapola.. just Maggie. Not sure on a middle name yet. I guess I still have time. I'm not due until July 7th anyways (07-07-07, kinda cool, even though I'm sure I won't hit that date). I just started my last trimester and I just want to get this over with already! But I still need to figure out where I'm going to be moving because my apartment is just a one bedroom. It's a freaking hassle.
Current Mood:
giddy
Current Music: Mika- Grace Kelly

March 23rd, 2007
---
01:14 pm
notches.

thank you to all the notches.

HA HA HA HA

guess you had to be there.
you shouldn't have been there.
you would not get it. =)

March 13th, 2007
---
12:33 pm
Yeah so, now I have to edit what I write on here because apparently I get stalked.

WEIRD. Gotta love those exes!

I think it's funny how you can not give a shit about your own kid but then when it comes to your EX hanging out with guys.. OH NO. Look who wants to play daddy.. TO THE WRONG PERSON.

Me, Lauren, Dave, Rudy, Mansfield, Jimmy, and my brother went and saw 300 this weekend.. it was freaking sweet and we had a blast. Love those guys. Rudy ended up passing out cause he was wasted so I think we'll go see it again. It's awesome how Dave gets to come home every weekend now, it's nice having somebody STABLE (besides Lauren) around this shithole. LOL
Current Mood:
loved
Current Music: The Cranberries- When You're Gone

March 6th, 2007
---
02:09 am
Sooo I got PROMOTED!
I went to drill this weekend and at the final formation they called me up in front of everybody, and I was like "SHIT I must have don't something wrong" because that's usually what it's about.
But they promoted me. YAY.
I'm now Specialist Pacheco instead of Private Pacheco, and thank GOD because I'm tired of being a private. There's a good 3 different levels of private and I worked through all 3, it's about time I get to boss people around. =) And I get a raise.
Specialist is ONE step below a sergeant. Take THAT, TJ Hooker.


Ohh, and it looks like dad is moving to Africa. WTF?

February 24th, 2007
---
01:05 pm
Me, Lauren, Jordan, Mansfield, and Dave went and saw Reno 911 last night.. pretty funny.